Some Colombians are looking for a new opportunity to work in the midst of confinement, for which they must have adequate clarity and creativity with the new technological boom, companies in their human resources area are increasingly looking for profiles that fit your digital needs.
The key to achieving a job placement according to your expectations is to have a resume attractive enough to captivate the attention of companies, without forgetting the added value that it can bring to the position for which you are applying. Knowing how to sell your skills is important. It does not make sense to put little relevant information, which has not contributed to their knowledge and improved their job skills.
Your resume must be attractive enough knowing that there are several ways to present the information in a resume; In the market there are some recommendations that allow you to choose the one that best suits your profile.
Therefore, we will provide you with some tips to achieve your work goal:
Job profile: Basic data can be considered, where your profession is reported, you can mention three to five competencies or skills, a summary of the time of work experience, positions relevant to the vacancy to which you aspire, as well as the main functions or achievements achieved in career path. Synthesizing is essential, a job profile should not have more than five lines.
Content:Your resume should be divided into five categories: Personal information, studies carried out, experience, continuous training courses and skills.
Form and design: Design not only has to do with the colors or graphic elements that are used, it is about achieving an adequate structure that allows all the notable points of the candidate's academic, work and skills trajectory to be visible.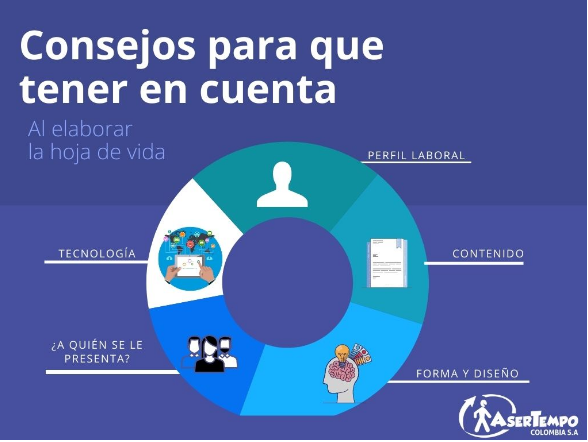 Who is it presented to?: Your resume will likely go through three different interlocutors including a recruitment professional, the HR group that will interview you, and your future boss. Tailor the key messages on your resume with them in mind.
Technology: Don't miss the opportunity to apply for a vacancy at any time, keep your resume always up to date. The ideal is to always have the resume at hand to be able to share it instantly when requested.
Si le intereso este contenido compártalo con sus colaboradores y haz clic aquí para conocer nuestros servicios.
Error: Contact form not found.